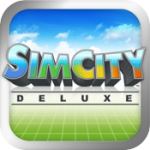 I'll be honest with you, when I started to download this game I had a sort of bad shiver, the same way I had when I started to play
Simcity Societies
, but I was relieved after skipping a couple of option and title screens, here is
Simcity Deluxe
(DLX) review for the iOS.
Now, Simcity has been around as long as I remember, since the beginning of my youth I thought this was needed to go into a government position in any country, succeed in having a successful city, you can rule the country easy, but that was then. Simcity DLX, brought us by EA, brings us what was good about
Simcity 3
(or 3000 if you want to put it that way), and many improvements of the now extinct Simcity for the iOS, this version of the game was released in Jan 2011.
Like in all the games of its genre, your objective is to build a city, make it grow and prosper. You start with measly nothing but grass, small forests and maybe a lake depending on what your options are, and you, the new mayor of a vacant plot of land, need to make a city and attract people to live in it by building housing, utilities, governmental buildings, jobs in the form of industrial and commercial, transportation, roads and so on. But even the mayor can't do everything and be kept under the loop all alone, so you have 7 appointed advisor's that will guide you through all your cities woes and accomplishments.
In Simcity DLX, you will be first amazed in how quickly everything goes, every menu and option is quickly opened and doesn't leave room for loadings* so you'll don't feel the need to take the app off and do other thing. The controls are pretty good for this type of game, although many of the people seem to dislike it, I preferably find it more easy and responsive than other games, most of the game though will make you pinch to zooming in and out, or quickly build something, also you have all of the toolbar at your disposal and with easy access. Something that I found interesting aswell is how the animations now work, the new version of the game makes the animation continue even after you pinch to zoom and most importantly the seasons that your city goes through which adds some very deserved value to it.
You will recognize the sounds from the computer version of Simcity 3000 (which you might think its one in the same but on the iOS) and the graphics are improved from said game as the more you zoom the houses still look good instead of the sketchy models of the PC version.
If you are bored, you can always call on disasters which are implemented on this version so you have more things to do if you feel like boredom is getting you, just drop a volcano or an earthquake and have a blast while seeing your city become ruins.
Lastly, you also have objective scenarios which is a valuable addition to the game if you feel like just building for the sake of having a metropolis, every scenario you are challenged with something, like a disaster or a bad budget and this will test you as a Mayor and connoisseur of how Simcity works. The game itself is a must have for all strategy building based gamers out there, its fun and intuitive and you will spend hours playing in while travelling or even at home plugged in into the electricity.
The game is for sale in the
iTunes
shop for $0,99/€0,79/£0,65 (aprox.) and available for the iPhone, iPad and iPod (4th Gen.)
*loading may vary depending on hardware and space remaining.